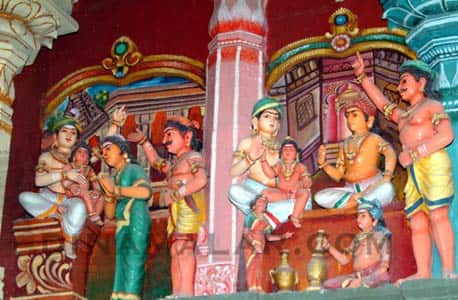 LODGING COMPLAINT BY ASSUMING THE FORM OF AN ADVOCATE

At Madurai during the rule of sundaresa patha sekaran, a business man named Dhanapathi was living with his wife Suseelai. Though they were very rich they did not beget children. There should be a child to enjoy the wealth in the future. They made requests to Lord Sundaresar on this account on several occasions. Years rolled on but there was no indication of giving birth to a child. So he took the son of his sister in adoption. And they reared the child with utmost care. There used to be small skirmishes between his wife and sister. He will scold his sister by listening to the words of his wife. On one occasion his sister got angry and uttered "The final rites at the time of your death will be done for you only by my son and thereby you will be able to reach heaven. If I am not there what will be your position?". Thus she indirectly faulted them at their state of not having their own child. Becoming sad Dhanapathi went to Lord Sundaresa Peruman and told him "It is because of my position of not having my own child I had to incur this blame. During the current birth you did not pay heed to my request. At least in my next birth you should bless me with progeny." Saying so, he transferred all his properties in the name of his sister's son and went to the forest with his wife. There after they spent their life pursuing Spirituality. After he left, his paternal relations(Thaayaathigal in tamil) fought with his sister saying that they also have some share in those properties. They captured the entire properties by foisting false cases. Now his sister and her son became penniless and pauper. Thinking that they got this punishment only because they wounded the feelings of her brother, they approached Lord Sundaresar in the temple. She wept there saying that their future is very bleak and worried about their future. Her tears melted the heart of Lord Sundaresar. HE decided to help the sister of his devotee who has been cheated in an unjustified manner by the relatives.

A divine voice was heard stating "O" My daughter, You make a complaint with the elders in this town. I will come save you" Since the Lord himself has blessed her now she lodged a complaint. Dhanapathi's relations said that the properties belong to them only. At that time Dhanapathi himself came there. His sister fell at his feet and sought his pardon. Dhanapathi consoled her. He told the elders that all the properties should be entrusted to his sister' son. At this stage also his relations said "This person is not Dhanapathi at all. He is impersonator. How can the original Dhanapathi who has gone to the forest can return all of a sudden?> But Dhanapathi replied " If I am an impersonator I would not be able to identify each one of you. Look this man is the president of the town.This man is my paternal relation Sadaiappan. This person is Muththappan." Saying so he identified all of them. More over he gave an account of his properties with full details. The arbitrators of the town had now full faith and confidence on Dhanapathi. They warned that those who lodged the complaint should leave this place immediately. Otherwise they will be entrusted with the Government and will have undergo severe punishment. Immediately all of them ran away. Then Dhanapathi registered all his properties in the name of his sister's son. He immediately disappeared. Then only the arbitrators understood that the person who came is not Dhanapathi But Lord Sundaresar has come as the uncle. Having come to know of this news, the King Sundaresa Patha Sekaran worshipped Lord Sundaresar. He lived for quite some time and then reached the lotus feet of the God. There after his son Vara guna Pandiyan took charge of the kingdom.