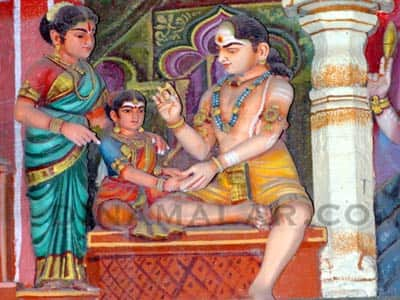 CHAPTER ON THE SELLING OF BANGLES

It is believed that there was a part named Tarugavanam in Madurai town. There were lots of sages (Rishis) with their wives were living there. The women i.e., rishis' wives felt that they are the most beautiful women in the world and their chastity is the highest one. They were arrogant because of this. By thinking so, they had a thought that all other women are below them in status and this got deep rooted in their minds. God Somasundarar wanted to teach a lesson to all of them to impress upon the fact that there are women who are higher than them in beauty and chastity in this world. For this sake, he wore a silk loin cloth, put the skin of a tiger on his chest, smeared all over his body the sacred ash and with a body shining in red colour and carrying a begging bowel (thiru vodu in tamil) entered into the Tarugavanam. When saints like these come, devotion should develop and over flow in the mind. But on the contrary in the minds of the wives of sages the thoughts "How beautiful this person looks like " arose. There is no doubt that as far as chastity and beauty are concerned they are at a higher level than other women. But they have at the same time insulting and neglecting attitude were there. Just to remove that only the God has come. Having come He intoxicated their minds. He made them to describe him as the most beautiful person. If married consider other male persons as beautiful then there will a blot and black mark in their chastity. Those women .i.e., wives of sages) lost their chastity. They forgot themselves and lost their senses, got intoxicated on seeing person asking Biksha (Dole or alms) at their house steps. They became lean and the bangles they wore in their hands loosened and fell in the begging bowel. For some the Mekalai( a kind of jewel) they wore in their waist got loosened. They put that also in the begging bowel completely ignorant of their act or what they were doing. Then having come back to their senses, they understood their mistake. They felt very bad and sad by thinking that atleast even for a few moment they got attracted to a beautiful beggar and lost their senses. But they could not understand as to why and how such a feeling came in their mind.

What will happen to them that has happened to them without their knowledge and senses, if their husbands come to know of their mistakes? What reply can they give to their husbands if they ask where are the bangles and mekalai they were wearing? Their bodies shivered. Having lost their senses, they forgot themselves and went behind that beggar. They begged him to give them back their bangles and mekalais. But Lord Shiva did not mind that. He was just walking. They returned to their houses without getting back their bangles and mekalais. They were worried as to what will happen if their husbands come to know of this. The sages also arrived. The wives of Rishis(sages) were standing and were worried lot. The sages who got angry on seeing their wives in a changed state of mind, sprinkled the water from their Kamandalam(water pot)and cursed them by saying "O" women, Having wavered in their minds on seeing Lord Somasundarar, you will reborn in the business community (vysya caste) in Madurai where he is living". They requested their husbands that that want to become Rishi pathnis (Wives of sages) only once again and sought their blessings. They replied ""O" Women, Somasundaram will come to the houses at Madurai where you are going to live for alms. When you put alms in his begging bowel his hands will touch your hands and thus you will be redeemed from our curses. They were born as told, in the Vysya community in Madurai. They went daily to Somasundarar temple, and worshipped him. Somasundarar graced them. He started his divine play (thiru vilaiyaadal in tamil)to make them once again the wives of sages. .He took the form of a bangle seller. He carried on his back in a bundle all those bangles that slipped from their hands when they were the sages of wives.

He was coming to the streets where the vysya community was living shouting on the top of his voice "Do you want to buy bangles?"The wives of the sages who are born in this birth in the vysya community, came out of their houses. On seeing this muscular and beautiful youth, they felt shy. They were afraid that if he puts bangles in their hands by touching them they may feel shy. Even then their desire on bangles did not go away. They invited the young bangle seller and requested him to put bangles in their hands. The Lord also touched their hands and holding them with his hands put the bangles in their hands. At that moment they lost their senses i.e., they were not in their senses. They forgot themselves. They had a feeling in their minds to show their hands again and again and wear the bangles by his hands. They told him "O" business man, These bangles look very beautiful. From where do you procure these bangles? Please come tomorrow also by bringing similar bangles." Then they extended their hands to pay for the amount for the bangles they had purchased. He refused to accept the payment and said " You have asked me to come tomorrow. So I will get the payment tomorrow in total" He left the place without even waiting for their reply. They did not have mind to leave him. By some unknown power trying to push them they also followed him and went behind him. He went inside and entered the Sanctumsanctoram. He went upto the place where the Shiva lingam was and then disappeared. The women looked at him with shock. He became one with the Lingam. Then only they came to understand the bangle sellere was none other than Lord Somasundarar and he had come to retrieve them. Having blessed with shiva darsanam they lived in Madurai for several years a very long time and got the luck of becoming the wives of Sages(Rishi pathnis). Thus Lord Somasundarar put down the arrogance of Rishi pathnis.