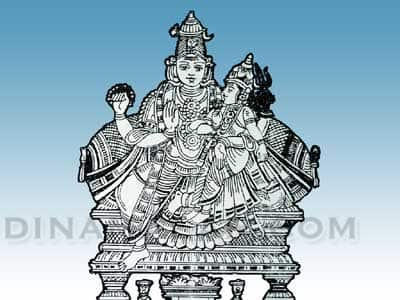 At Mount Kailas Lord Siva is sitting with his consort in a seat(aasanam in tamil) made of gold and gems. Lord Shiva is the father for all the living beings in the world. Like wise Uma Devi is the Mother of all living beings in the world. SHE performs all
HER actions as per the wish of Lord Shiva. How one cannot separate fragrance from the flower and smoke from the fire separately, likewise she has merged in Lord Shiva. She is love incarnate. She has five forms for five types of heractions.

1. ParaSakthi She is 1001 parts from Lord Shiva
2. Aathi sakthi She is 1001 parts of Para Sakthi
3. Ichcha Sakthi She is 1001 parts of Aathi sakthi
4. Gnana Sakthi Shei 1001 parts of Ichcha Sakthi
5. Kriya Sakthi She is 1001 parts of Gnana sakthi
6.

In this Para Sakthi blesses the matured souls. Aathi Sakthi removes the EGO(aanavam in tamil)in us and helps us to achieve the mature state. Gnana Sakthi makes the intelligence in all of us to shine by giving the same. Ichcha Sakthi does the job of Creation and creates us. Kriya Sakthi produce the world. When all the above join together and do an action they become one and become Sadasiva moorthi. Hence Shiva and Sakthi are in separable. To worship such a famous UMA MAHESA MOORTHI we should go to a place called Koneri raja puram near Kumbakonam. The Lord here in this temple is calledUma maheswarar. His consort's name is Dega Soundari. By taking bath in the pond near this temple and performing abishegam to both the Lord and Sakthi with milk and Honey even Chronic leprosy will be cured. Another name for the God in this place is Bhoomi Nathar. As the name itself indicates, before starting any profession, occupation, trade and industry by worshipping the Bhoomi Nathar first and carrying a fist full sand from here and put it in the place where one is going to start his trade, occupation,industry or profession they all will prosper. Perform archana with Red Alli flower ( a kind of jasmine flowe) and offer neivethyam of Sarkkarai Pongal. On wednes days there will not be any problem in one's family life. No problem will arise in the family life an even if it arises it will be solved smoothly. By making Vinaygar image from the sand here and keeping it in our house any obstacles that come on the way of our performing actions will be removed.