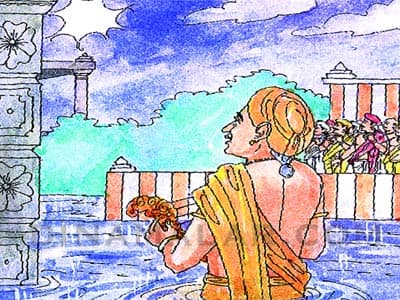 GIVING A LETTTER

During the course of time the money receiced through Hemanathan and the gigts received from the king all were spent and became empty. The family of Paana pathrar became poor. He went before the god and wept narrating his sufferings and his present state of affairs. A divine voice was heard at that time. " Panapathra Don't worry. Here in this step daily there will be an article. Take it and make a living with it. Panapathrar felt happy considering that the voice that he head as that of God's words. As told there was an article daily on the step. Though he made a living by using and utilizing it, the God decided to make him poor again and make a divine play with him. He did this just to make the world know the intense devotion(Bhakthi) Panapathrar on HIM. One day HE appeared in the dream of Pana panapathrar and said to him "I will give you a Thirumugam ( a letter written in cloth). Take it to cheran king and get from him enough wealth. Immediately God composed a poetry. The English traansliteration of that tamil poem is give below; The transliteration runs as follows:

"Mathimali purisai maadarkooda pathimisai nilavum paal nira varichiragu, annam mayil pozhilil aalavaayil manniya sivan yaan mozhiththarumatram paruvam kon muppadi yena paavalarkku urimaiyin uthavi olithigazh gurumaamathipurai kuviyak kudaikkeezh chruma vuvaikkum cheralan kanga. Panpaal yaazh payil paana paththiran thnbol enbaal anban thanbaal kaanbathu karuthi ponthanan manporul koduththu vara viduppathuve".

He disappeared after giving the above divine poetry. Surprised by this, Panapathrar worshipped the God and left for Chera Naadu(country). Meanwhile the God informed about the arrival of Panapathrar in the dream Cheran king, the king himself went to the place of Paanapathrar invited him to come to his palace. He took him to the palace and gave him enough gold and money. After the Paanapathrar returned to Pandiyan country again, Varaguna pandiyan came to know of his fame and on his part he also gave him enough gold and money and thus the poverty of Paanapathrar disappeared.